Pour Some Sugar on Me – NSP Feat. Tupperware Remix Party
Ninja Sex Party teamed up with Tupperware Remix Party for this crazy cover video of Def Leppard's "Pour Some Sugar On Me". The video which features Toronto's rock stars from the future, TWRP, was released on October 12th and surpassed half a million views on Youtube within its first 48 hours. As if the video wasn't enough of a push, we definitely recommend checking out Tupperware Remix Party if they're ever playing in your area. Their live performances are quite the spectacle and you feel more like your at a crazy costumed sing-a-long party than a concert. TWRP is like Toronto's Kiss…if Kiss was about 1000x better than they were.
Ninja Sex Party is a synth pop/rock musical comedy duo, consisting of members Dan Avidan and Brian Wecht who portray characters Danny Sexbang, and idiotic, exuberant and strangely-dressed hyper sexual jewish man and Ninja Brian, and uncommunicative, homicidal ninja. Those character descriptions are both from Wikipedia, I never imagined I'd write that series of words.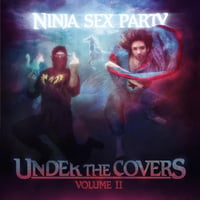 This is the first video from NSP's album "Between The Cover's: Volume II" a sequel to "Between The Covers" featuring covers from the 70's and 80's, which debuted on the Billboard at #9 in top album sales.
You can pre-order "Under The Covers: Volume II" here https://store.cdbaby.com/cd/ninjasexparty22
Comments
comments